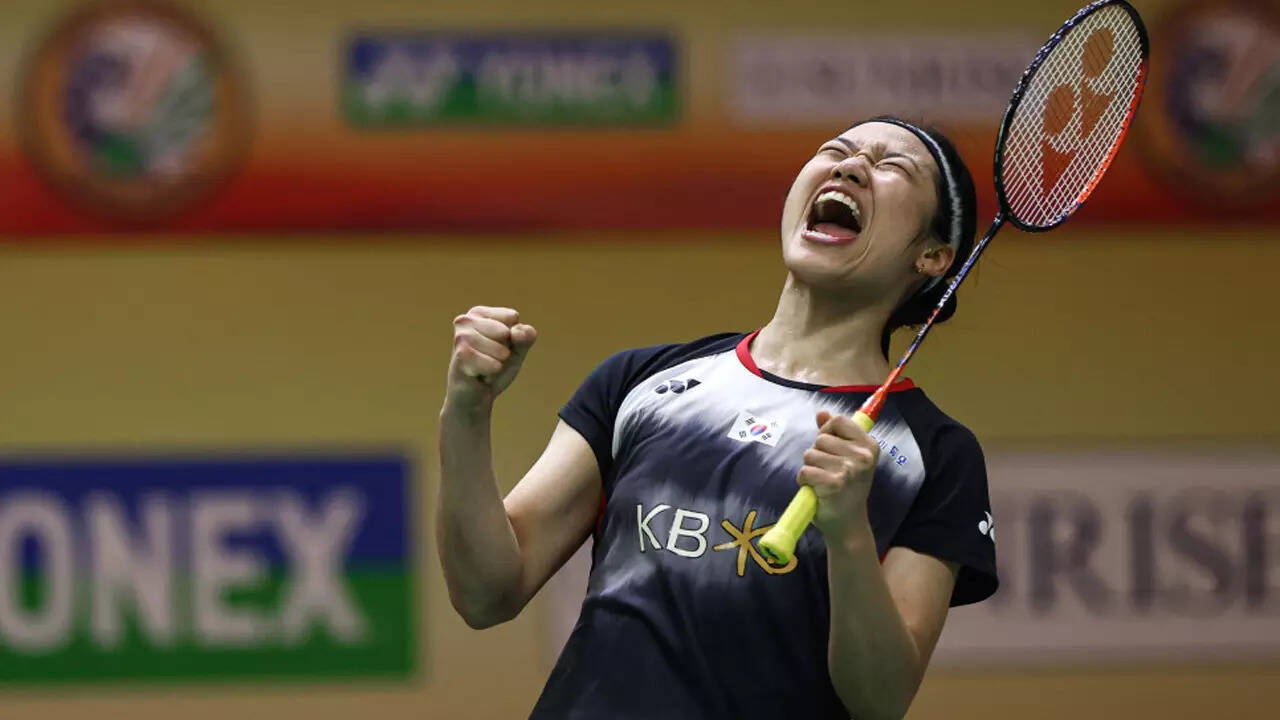 NEW DELHI: An Seyoung snapped a run of losses against two-time world champion Akane Yamaguchi with a come-from-behind win in the women's singles final, becoming the first Korean to win the India Open here on Sunday.
The 20-year-old, who had gone down fighting in a similar three-game summit clash at the Malaysia Open last week, dished out her repertoire of attacking and defensive shots during a 15-21, 21-16, 21-12 win over the world number one Japanese.
"I knew that the match would be another long battle. So I had made up my mind to be ready," she said with the help of an interpreter after her 72-minute battle, which helped her to reduce her head-to-head count against the Japanese to 6-10.
The world number 4 from Gwangju, the most prominent name to come up in women's singles in the last few years, has defeated all big players in world
badminton
.
ASY Supremacy 👑🇰🇷 sensation beats reigning world champion @AKAne_GUcchi66 🇯🇵 to lift the WS title at… https://t.co/GyHgK2NsMi

— BAI Media (@BAI_Media) 1674374645000
On Saturday, An Seyoung added two-time World championships bronze medallist He Bingjiao of China to her long list of big scalps in her fifth attempt on way to her second successive world tour final of the season.
An Seyoung didn't have a good start after coming into the final following four straight losses. From 6-6, Yamaguchi had stepped ahead to close out the opening game comfortably.
At interval of the second game, the Korean was once again lagging by two-point after fluffing the lines from being tied at 8-8. Pepped up by coach Sung Ji Hyun, An Seyoung started to up the pace and tried to play more angled returns.
Using cross court drops and slices, she started controlling the rallies as Yamaguchi erred with the lines.
World No.1 Akane Yamaguchi 🇯🇵 and No.2 seed An Se Young 🇰🇷 clash in a repeat of last week's final.#BWFWorldTour… https://t.co/oDP2yD2zwA

— BWF (@bwfmedia) 1674378000000
An Seyoung made her opponent run corner to corner using reverse slices and drops. The Japanese also missed the lines and fumbled at the nets to allow the Korean to take the match to the decider.
The third game was a physical battle as the duo engaged in some energy-sapping rallies. After a 51-shot rally, An Seyoung lay on the court after misjudging the shuttle.
Yamaguchi won two long rallies but An Seyoung produced some acute angled shots to recover from 3-6 down to 7-7 before moving to 11-8.
Yamaguchi came close to 11-13 but couldn't breach the gap with the Korean grabbing eight match points and sealing it when the Japanese hit the net.
"I was fighting with my strength. I ran fast in the opening game but I was making mistakes, so I worked on it and I was better in the second and third game," An Seyoung said.
"I don't think she made many mistakes. Both of us are quite fast on court and we played really well. I actually don't know how I managed to win this."
It has been a meteoric rise for An Seyoung, who was included in the national team as a 15-year-old in 2017. Still, a first year middle school student, she became a part of the world junior championships bronze-winning mixed team and went on to help Korea win the bronze in 2018 Uber Cup.
Her giant-killing run, however, started a year later when she won five titles out of six finals, beating the likes of London gold medallist Li Xuerui, Carolina Marin and her compatriot Sung Ji-Hyun, who became her coach a few years later.
With 11 world tour titles and a world championships bronze medal, the 20-year-old has emerged as Korea's biggest hope at the Olympics.
Liang-Wang win in men's doubles, two withdrawals due to ill-health
World no. 11 Liang Wei Keng and Wang Chang emerged as champions in men's doubles after seeing off Malaysian third seeds Aaron Chia and Soh Wooi Yik 14-21, 21-19, 21-18 in the final for their second World Tour title following the triumph at Japan Open last year.
The other two doubles matches didn't happen following two withdrawals, both featuring Chinese pairs, due to ill-health.
Wang Yi Lyu, due to play the mixed doubles final with Huang Dong Ping and Chen Qing Chen, who was to play the women's doubles final with Jia Yi Fan, reported sick due to diarrhoea and withdrew from their respective matches.
Japan's Yuta Watanabe and Arisa Higashino won the mixed doubles title, while Nami Matsuyama and Chiharu Shida, also from Japan, claimed the women's doubles crown.