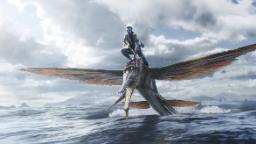 CNN
 — 

As has frequently been the case throughout his unparalleled career, James Cameron made film history again this weekend.
His long-awaited sequel "Avatar: The Way of Water" has now made over $2 billion in worldwide grosses, as reported by Deadline.
That grand total is after the film's box office take from this weekend, the sixth consecutive weekend the film has occupied the No. 1 spot since its release in December.
CNN has reached out to "Avatar: The Way of Water" producing studio Disney for comment on the film's latest financial achievement.
"Avatar: The Way of Water" is the sequel to Cameron's 2009 extraterrestrial epic "Avatar," which remains at the top of the list of biggest-selling films of all time, according to Box Office Mojo.
Another of Cameron's films is also in the $2 billion club – 1997's "Titanic." Only three other films are part of that club – 2015's "Star Wars: Episode VII – The Force Awakens," "Avengers: Infinity War" from 2018, and "Avengers: Endgame" from one year later.
Cameron is therefore the only director who can boast that three of his films are among the six to have made over $2 billion, as well as in top 6 bestselling movies of all time.
The director is planning to release at least three other "Avatar" sequels going forward.
Source link