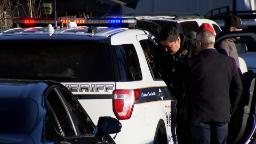 CNN
 — 

At least seven people are dead and one person is critically injured after shootings in two locations in Half Moon Bay, Dave Pine, President of the San Mateo Board of Supervisors, told CNN.
The suspect, a 67-year-old man who lives in Half Moon, is in custody, Pine said.
One shooting took place at a mushroom farm and another near a trucking facility, approximately two miles from the farm.
Deputies found four victims dead and one wounded upon arrival at the first location, and soon after, three more dead victims were found at a separate site, San Mateo Sheriff Christina Corpus said at a news briefing.
"This kind of shooting is horrific," Corpus said. "It's a tragedy that we hear about far too often but today has hit home here in San Mateo County."
A sheriff's deputy located the suspect in his vehicle in the parking lot of a sheriff's substation in Half Moon Bay, Corpus said, and he was taken into custody without incident. A semi-automatic handgun was found in his vehicle, she said.
The motive is not yet known, the sheriff said, but officials believe the suspect acted alone and the community isn't under threat.
Gov. Gavin Newsom said he was at a hospital meeting victims of the Monterey Park mass shooting when he was "pulled away to be briefed about another shooting. This time in Half Moon Bay."
"Tragedy upon tragedy," Newsom tweeted.
The shooting in Monterey Park over the weekend left 11 people dead.
Half Moon Bay is approximately 28 miles south of San Francisco and lies within the westernmost portion of San Mateo County, according to information on the city's website.