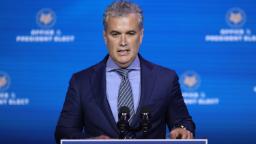 CNN
 — 

Jeff Zients, who ran President Joe Biden's Covid-19 response effort and served in high-ranking roles in the Obama administration, is expected to replace Ron Klain as the next White House chief of staff, according to three people briefed on the matter.
Klain is expected to step down in the coming weeks.
The move to replace Klain is particularly important for Biden, who has entered a critical moment in his presidency and his political future. As he continues to weigh whether to seek reelection in 2024, the early stages of a special counsel investigation into his handling of classified documents has rattled Democrats and emboldened congressional Republicans, who now hold the House majority and have pledged their own probes.
Biden decided on Zients after an internal search when it became clear that Klain favored Zients as his successor, a factor that played a big role in the president's decision. Klain had tapped Zients to lead a talent search for expected staff turnover following the midterm elections, but that didn't ultimately materialize after Democrats performed better than expected. Klain is now the most significant departure and is being replaced by the person he picked to help bring in new team members.
A source said Klain will continue to be involved and remain close to the West Wing. Biden's core political and legislative team – which includes Steve Ricchetti, Anita Dunn, Mike Donilon, Jen O'Malley Dillon, Bruce Reed and Louisa Terrell – will continue to advise him. Zients' new role is being compared to when Jack Lew was Obama's chief of staff and others, like David Plouffe, focused more on his political portfolio.
Additional political talent is expected to join for the likely re-election campaign, CNN is told.
In replacing Klain with Zients, Biden is turning to a consultant with more business experience than political background as he enters the third year of his presidency.
The decision to pick Zients surprised some internally given that there were differences in Biden's and Zients' management styles early on in the administration. But Biden was impressed with his job as the coronavirus response coordinator when Zients inherited what officials described as a "largely dysfunctional" effort by the Trump administration.
Another factor in the search was how this stretch of Biden's presidency will focus on implementing the legislation enacted in his first two years, and Zients is seen internally as a "master implementor," one source said. His operational skills were on display as his handled the coronavirus response and helped with the bungled 2013 launch of HealthCare.gov during the Obama administration.
Zients now has a closer relationship with Biden and with his senior advisers and multiple Cabinet members.
While Zients is not viewed as a political operator, his deep experience inside two administrations and his reputation for technocratic skill would likely serve as assets at a time when both are viewed as critical for what Biden faces in the year ahead. Still, he will be tasked with replacing an official who was a central force inside the administration – and someone with a rapport developed over decades with Biden himself.
Klain, who had long planned to depart the White House after Biden's first two years, has targeted the weeks after the February 7 State of the Union address for the end of his tenure.
A number of top officials had been viewed as top candidates to succeed Klain, including Cabinet members and close Biden advisers such as Ricchetti, counselor to the president, and Dunn, the senior adviser with a wide-ranging strategy and communications portfolio.
But while Zients isn't among the tight-knit circle of long-tenured Biden advisers, he's been deeply intertwined with the team since the 2020 campaign, when he served as co-chairman of Biden's transition outfit.
After the election Biden tapped Zients to lead the administration's Covid-19 response effort as he entered office with the country facing dueling public health and economic crises. While Zients left that role last spring, he was once again brought into White House operations a few months later when Klain asked him to lead the planning for the expected turnover inside the administration that historically follows a president's first midterm elections.
Zients was tasked with conducting a wide and diverse search for prospective candidates outside the administration to fill Cabinet, deputy Cabinet and senior administration roles, officials said, in an effort that would be closely coordinated with White House counterparts.
But even as wide-scale turnover has remained minimal for an administration that has taken pride in its stability in the first two years, now, the official leading the planning effort may soon shift into one of, if not the, most critical role set to open.
The White House chief of staff is a grueling and all-consuming post in any administration, and Klain's deep involvement across nearly every key element of process, policy and politics touching the West Wing only served to elevate that reality.
A long-time Washington hand with ties Democratic administrations – and Biden – that cross several decades, Klain is departing at a moment that officials inside the West Wing have spent the last several months viewing as a high point.
Biden entered 2023 on the heel of midterm elections that resulted in an expanded Senate majority for his Democratic Party and the defiance of widespread expectations of massive GOP victories in the House.
The sweeping and far-reaching cornerstones of Biden's legislative agenda have largely been signed into law, the result of a series of major bipartisan wins paired with the successful navigation of intraparty disputes to secure critical Democratic priorities.
Biden has made clear to advisers that the successful implementation of those laws – which is now starting to kick into high gear across the administration – is one of their most critical priorities for the year ahead.
But Zients will also inherit a West Wing now faced with a new House Republican majority that is girding for partisan warfare – and wide-scale investigations into the administration and Biden's family.
This story has been updated with additional information.
Source link