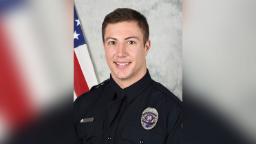 Sonny Thomas Almanza was arrested late Sunday evening and faces eight charges, including first-degree murder of a police officer, possession of a weapon by a previous offender and child abuse, the police
release says
.
Officer Dillon Michael Vakoff, 27, was "killed serving his community," Police Chief Link Strate said Sunday.
Vakoff and another officer responded to a scene with a "large family disturbance," Strate said at a news conference, and the two "arrived to a chaotic scene with multiple people in the street."
"The initial two officers tried to separate several belligerent and uncooperative individuals when the suspect began to fire and shot a female victim," Strate said. Gunfire between the suspect and police ensued, and both Vakoff and the suspect were shot. Vakoff was taken to a hospital where he later died.
The suspect was transported to a hospital and is expected to survive, Strate said. He will be moved to the Jefferson County Jail when he is released, police said Monday. CNN has not been able to determine whether Almanza has obtained an attorney.
The female victim was also transported to a hospital and is expected to survive.
Strate said Vakoff had been with the department since 2019 and was a former staff sergeant in the Air Force.
He was, Strate said, "an example of everything that is good about a police officer. He was training towards becoming a SWAT officer and, without a doubt, would have continued to have a positive impact on his community."
"This is a tragic loss to this community, to this department, but most significantly to his family and loved ones," Strate said. "His service and sacrifice will never be forgotten."
Arvada is roughly 10 miles northwest of Denver.
Source link