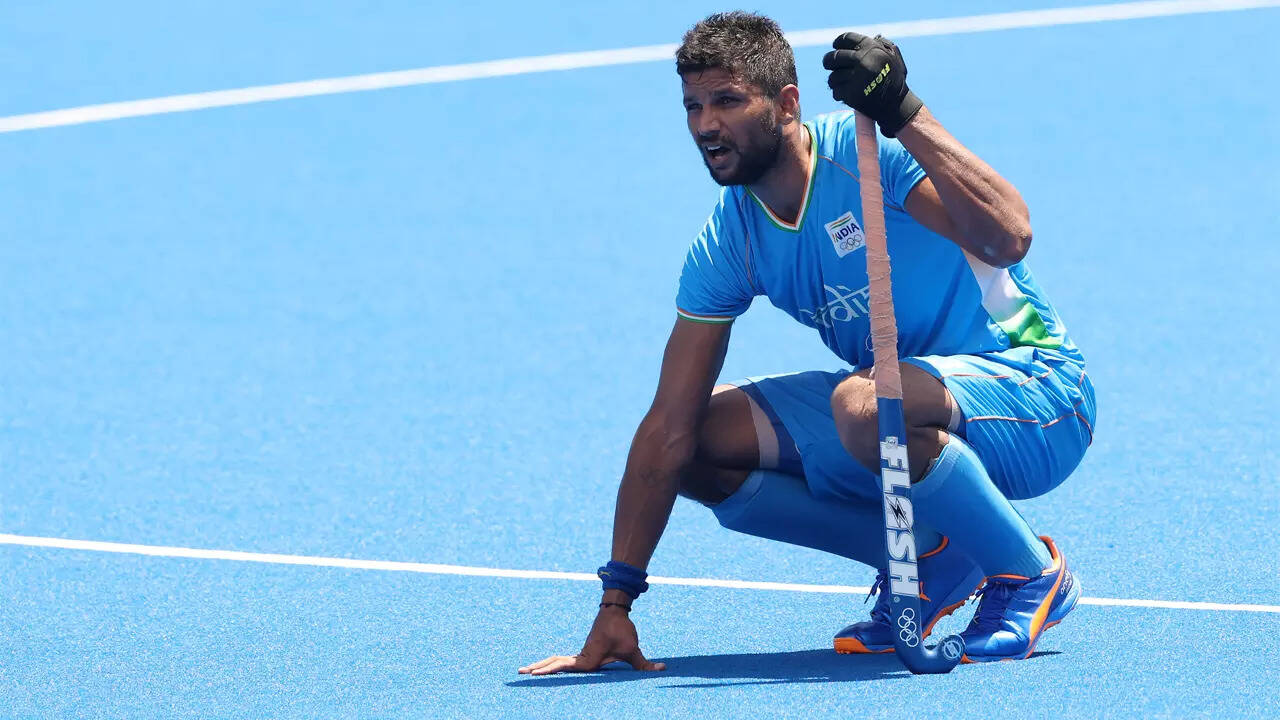 BHUBANESWAR: Former India drag-flicker Rupinder Pal Singh feels that international teams will find it increasingly difficult to score from penalty corners as the use of technology in the game — such as video analysis by opponents — has made the exponents of the craft difficult to beat the defenders.
Rupinder, who was a part of the Tokyo Olympics bronze-winning team but retired soon after, said penalty-corner defence has improved manifold in recent years and that was why drag-flickers all over the world have been finding it difficult to score.
"Defending penalty corners has become an art in recent years. Every team now has video analysis to study how the opponents take their PCs. They will analyse how the drag flickers of the opposition team flick and how they use variations, and accordingly train to prevent goals," Rupinder told PTI on phone from his home in Punjab.
"It is the same in the case of India. We are also very good at defending penalty corners as we saw against England (in this World Cup). Our first rushers, Amit Rohidas and Manpreet Singh, are very quick to rush out and close the angle," said Rupinder who formed a potent pair of drag flickers in the Tokyo Olympics, along with current India captain Harmanpreet Singh.
India have scored three goals from penalty corners out of the 16 they earned in the ongoing World Cup, which is less than one-fifth of the total goals. Overall, 43 goals have been scored from PCs in this World Cup out of a total of 130 goals scored from 24 matches at the end of the pool stages.
"It's a World Cup, not any international tournament or bilateral Test. Every team will try to score the most from PCs and, at the same time, they will try to defend the PCs the best they can," the 32-year-old said.
Rupinder said that apart from the video analysis of opposition teams, better quality equipment, such as knee and mouth guard, gloves and head guard have made rushers fear the drag flick less than in the past, and so they can defend better now.
"So, we cannot say the effectiveness of drag flickers has gone down in hockey because the decrease in conversion rate is due to better defending of PCs than before. You can't help it and it is the way it is.
"But it is not that drag-flickers are not going to score goals. They will score. It is about timing, if there is coordination between the injector, stopper (of the ball) and drag flicker, then goals will be scored."
Harmanpreet, one the most dreaded drag-flickers in the world, has had a quiet tournament so far, having scored just one goal from PCs — against Wales in India's final pool match on Thursday.
But Rupinder advised the Indian drag-flickers to just stay calm and positive, saying that goals should come from their sticks.
"It happens in high-pressure situations, they should remain calm and positive. I think they have not done anything wrong and they should not have negative thoughts." Harmanpreet was in great form during the Tokyo Olympics, scoring six goals, including one during the bronze-medal match against Germany. Rupinder had also scored one from his drag flick in that match.
"In the Tokyo Olympics, we had done well in converting and defending PCs. So, I hope this team will also do well in the coming matches of this World Cup."
According to FIH records, India converted 10 PCs out of a total of 31 they earned in the Tokyo Olympics while they also conceded 10 goals from the 47 PCs they defended.