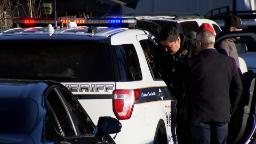 The owners of a Northern California mushroom farm where a gunman killed four people and wounded another before killing three more people at a nearby trucking facility said they were shaken by Monday's deadly events.
In a statement to CNN, San Mateo County-based Concord Farms said with "no past knowledge with this gunman or his motives, we are shook and very eager to gain more information from the authorities and their investigations."
Dave Pine, San Mateo Board of Supervisors president, told CNN the suspect has been apprehended and is a 67-year-old man who lives in Half Moon Bay.
The shootings Monday come just two days after at least 11 people were killed in a mass shooting at a dance studio in Monterey Park, California.
Concord Farms said they are a family-owned mushroom farm who have been in their location for 37 years and thanked the support of the community in the wake of the shootings and swift actions of law enforcement.
"Our hearts are with the victims, their families and the Chinese American community — from Half Moon Bay to Monterey Park," the statement said.
Source link