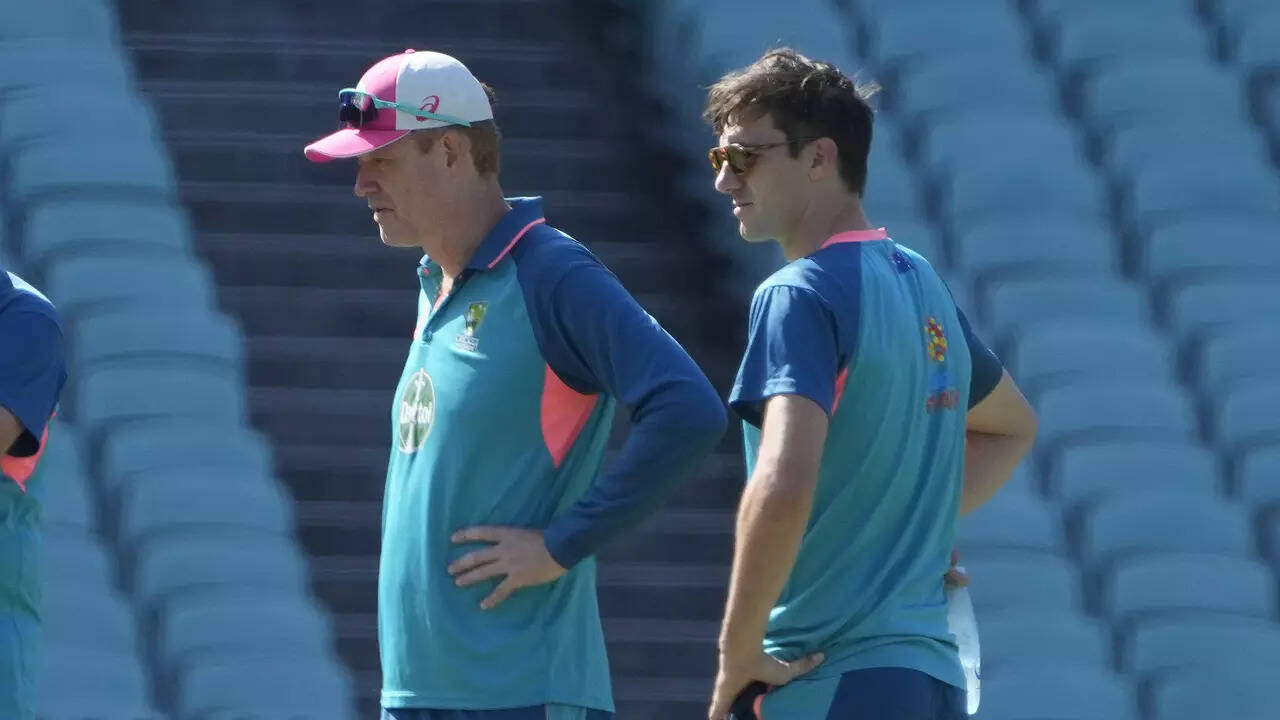 BENGALURU: Australia head coach
Andrew McDonald
believes the biggest challenge for his side in the upcoming Border-Gavaskar Test Trophy will be to tackle "slide spin" from the Indian tweakers in the early overs.
As the tourists got down to the business of preparing for the gruelling four-Test series beginning in Nagpur on February 9, McDonald also warned his batters that they will have to come up with individual methods and techniques to counter the sliding deliveries.
The Australians have chosen to train all by themselves instead of playing tour games as they feel practice matches serve little purpose.
Both McDonald and
Steve Smith
have said that serving green tops for tour games and spinning tracks for actual games defeat the very purpose of playing practice matches.
"I think the new ball is the one that creates more of that slide and when the batters do get done on the inside … we're preparing for that (during the preparatory camp in Bengaluru)," McDonald had said before the team's departure for Bengaluru on Wednesday.
On Thursday, cricket.com.au re-tweeted images of the squad training at Alur, clicked by its journalist, which showed the touring party batters going about their paces in the nets.
"That slide spin, we'll expect the spinners to bowl early against our opening batters as well with the new ball so all that is taken care of in the training environment and (batting coach) Diva (Michael Di Venuto) does a fantastic job in preparing.
"The key to success there is to have a clear method and that will be individually based and depending on the conditions we're confronted with," McDonald was quoted as saying by Sydney Morning Herald on Thursday.
With prolific Usman Kahwaja scheduled to arrive later on Thursday after his visa approval got delayed, he will join the touring party on Friday to prepare for the spin challenge in earnest.
McDonald said that despite the squad training on their own, there will still be variation in the track offered at Alur and the ones on which Test matches will be played, and here batters will have to use their judgement while playing shots.
"We'll be trying to make sure the batters are clear on their method," said McDonald, adding, "You're never going to get exactly the same as you're going to get in a game, and that's one of the real complexities around preparing for a cricket tour."
The coach, who took over from
Justin Langer
, said another reason for not playing a tour game in India was to keep players fresh at the back end of the month-long tour.
"We haven't played a tour game for three years. It's probably not something new to us, put it that way," McDonald said.
"We value freshness at the back end of the tour. Something we've seen teams go there before and expend a lot of energy at the front end. We feel with the profile of this group, quite an experienced group, quite an experienced batting unit as well, who have been there before, I think 11 out of the squad has been there before.
"A significant chunk of the squad that's been there before, so we feel that better places are leading in and then you never get guarantees over those practice game surfaces you get. Often, there's no real connection between that practice game into the first Test match. We feel as though we can control the surfaces here," he added.
He said the strategy would be to prepare a blueprint while training in Bengaluru and replicate it in Nagpur during the first Test.
"(We'll) get a bit more control in Bangalore to replicate what we're going to come up against and then we go into Nagpur fresh and hopefully it pays dividends at the back end."