BHUBANESWAR: He is dutifully dedicated to his current role as the Chief Coach of the US senior men's team, but every time Team India gets on the hockey pitch, it's impossible to keep former India coach Harendra Singh away from the action. In fact, the World Cup in Odisha brought him back closer to the pitch where he anxiously paced up and down and shouted as India coach during the 2018 World Cup.
The pain of not going past the quarterfinals in 2018 is still there inside Harendra, and it flared up when he witnessed India giving it away in the crossover match on January 22 this time and succumbing to the pressure exerted by New Zealand, who held their nerve better in the sudden death shootout to win 5-4 and push India out of title contention.
Harendra, who lives in California currently, was critical of what he saw from the stands of the Kalinga Stadium. India let a two-goal advantage slip twice when leading 2-0 and 3-1, which allowed the Black Sticks to not just come back but also wrest control of the game before entering the quarterfinals. Hockey World Cup: All that went wrong for India
Talking to TimesofIndia.com for an in-depth analysis of India's sorry campaign, Harendra raised some razor-sharp questions.
Excerpts:
How does it feel to be back on home soil and especially Bhubaneswar where you have made a lot of memories?
It's a privilege to be back here at this iconic (Kalinga) stadium. Any coach that comes here gets the goosebumps because people here know their hockey.
How long has it been since your last visit here?
After 2018, it's my first time here. Of course, since the last one and a half years I have moved to the US. But I can't be away from Bhubaneswar when it comes to hockey.
Like so many Indian fans, you too must have been disappointed to see India not making it to the quarterfinals…
If you ask me, 1.5 billion people are disappointed because we had created momentum, I would say, from the 2018 Champions Trophy (silver medal) and carried it till the Tokyo Olympics (bronze medal). But somewhere after that we lost that momentum. We shouldn't have fallen into the opponent's (New Zealand) trap. But we did and paid the price for it in the pre-quarterfinals (crossovers). Hockey World Cup: Mixed response from fans after India failed to qualify for quarters
Where do you think we fell short against New Zealand?
I think there are a lot of areas. We won an Olympic medal in Tokyo after 41 years. That was historic. But your cycle for the next Olympics starts the very next day. When I saw the Indian team that was announced for this World Cup, I was sceptical because the players who can win you games and hold the team (together) were missing. We felt it not just against New Zealand but in the entire tournament.
Two of the heroes of the 2016 Junior World Cup triumph, when you were the team's coach, were Simranjeet Singh and Gurjant Singh. Both were ignored for this World Cup. In fact, Simranjeet had revived India's Tokyo Olympics campaign as well after the 7-1 defeat against Australia. Did we miss them?
We missed players like Simranjeet, Sumit, Gurjant, Jugraj a lot. Everybody is talking about captain Harmanpreet Singh not being in form (on drag-flicks). I don't blame him. Earlier, he shared the responsibility (of taking penalty corners) with Rupinder Pal Singh (now retired). Here, that poor chap alone had that entire responsibility on his shoulders. We made a wrong decision by appointing him the captain. He is taking the penalty corners, he has to do the outletting, play a role in attack and also I was surprised to see him in the shootout (against New Zealand). If someone like Jugraj would have been in the team when Harmanpreet's drag-flicks were not working, then the coach could have tried Jugraj. And if he had scored a couple of goals, then Harmanpreet would have felt better. As an outsider and observer, I believe those combinations were missing. It was evident that Harmanpreet was (feeling the pressure) on the pitch. I have never seen Harmanpreet arguing with the umpires, claiming every ball. He is such a cool customer.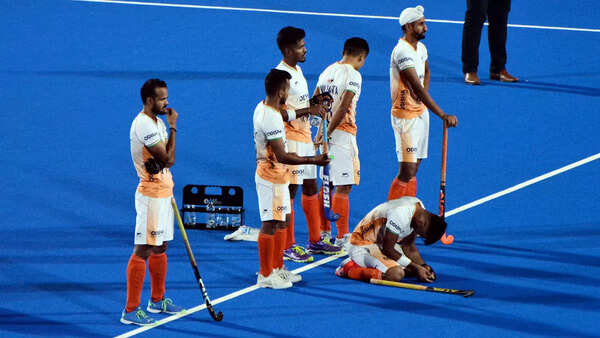 (ANI Photo)
Were you surprised to see four youngsters — Sukhjeet Singh, Rajkumar Pal, Abhishek and Shamsher Singh — being asked to take the shootout instead of some of the experienced players like Manpreet Singh and Akashdeep Singh?
It's not about picking the wrong combination. When you train, you decide which will be those five players. The coach definitely plays a big role. But for what do you have senior players with 250, 300, 400 caps? That's the time when you should step up and take responsibility. I was surprised that players like Manpreet and Akashdeep were not picked (for the shootout) or maybe they refused, we don't know about that. But this was the time when Akashdeep, Manpreet, Mandeep and even Lalit (should have taken the responsibility). If you combine the caps of these four players, it's close to 1000. That's big. So, pressure did play a role. As a coach, I don't accept these things. When you are a senior, play the role of a senior.
The team wilted under pressure in the last quarter against New Zealand. Do you think this team needs a mental trainer to handle such situations?
There has been a lot of debate over this before as well…sometimes it works, sometimes not. It's about decision-making. We were not making the right decisions. We were up 3-1, then New Zealand were down to 10 men (in the last six minutes), but even then it was total control of New Zealand. How is that possible? That means we have to work on our defence. Every second pass we were losing; and everytime they were getting the ball, they went for the vertical (aerial balls). So what should we have done? We should have held onto the ball in their half rather than in our half. Of course, Graham Reid is a seasoned coach. He must have said these things. But why was there no Plan B? The team has to answer a lot of questions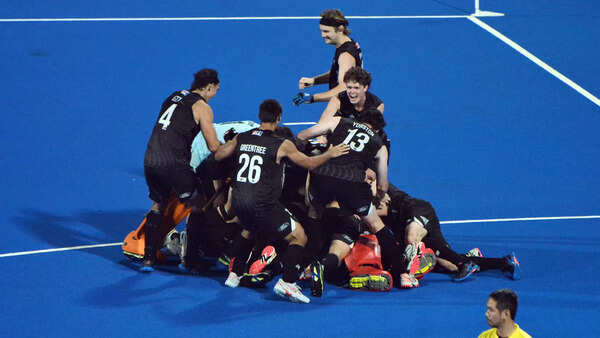 (ANI Photo)
Where does the team go from here, because you probably will not see players like PR Sreejesh and Manpreet at the next World Cup in 2026?
I believe the youngsters should take their chances. Let's be very critical. This was the best opportunity for them. They should have stepped up and delivered. I am not saying they have not delivered but my expectation was more than what they have delivered. My advice would be to not go for a 'major surgery'; we just require minor fixes and should stay focused on the Asian Games. That's very important. If you miss (Olympic qualification from) the Asian Games, it will be very hard for Paris 2024.
What would your inputs be if you were asked for suggestions after this World Cup fiasco?
The players who are out of the system should be brought back in and given another chance so that there is healthy competition within the group. There is no competition at all if you have just 24-25 (players). Who are the players that are going to pose a challenge? It's only players like Simranjeet. Also, invest in the juniors. Where are the 18 players we picked for the 2021 Junior World Cup? (only one from among those 18, Vivek Sagar Prasad, is in the current World Cup squad). Either those players were wrongly selected or they were not kept in the system. So somebody should be accountable for this. It's a process, not instant coffee.