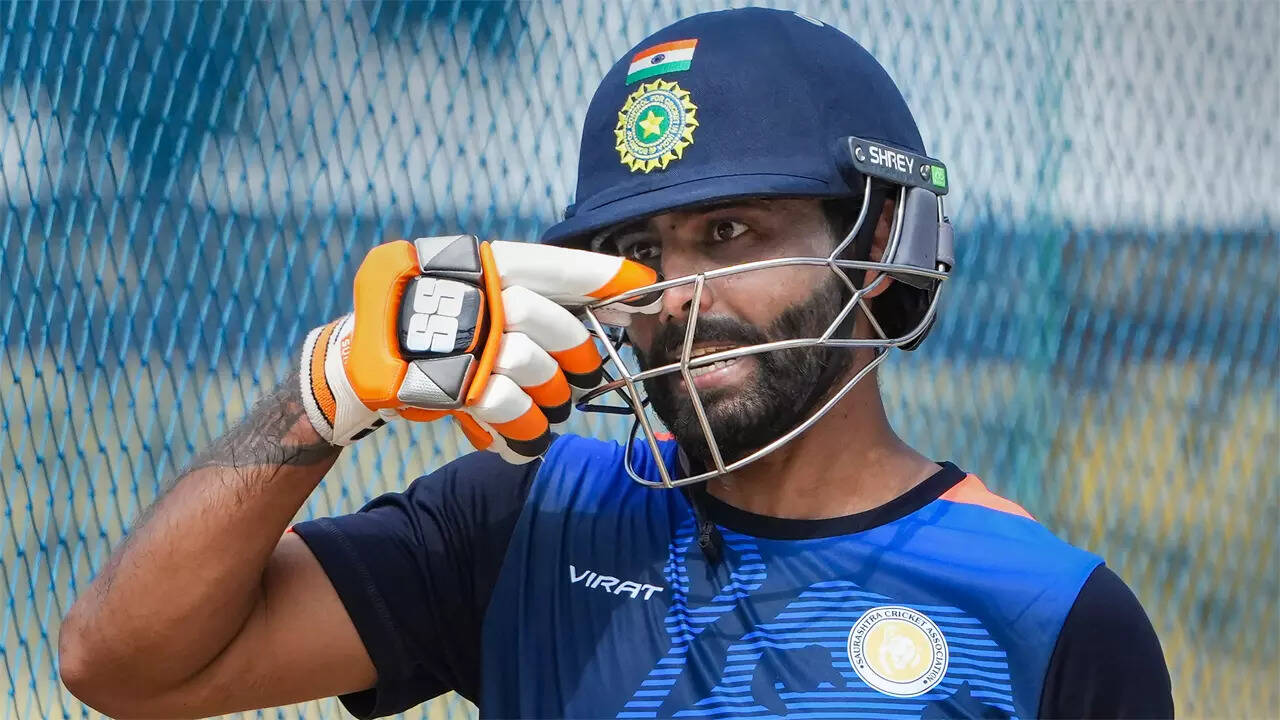 NEW DELHI:
Ravindra Jadeja
has been out of the action for close to six months and now the star India all-rounder gears up to make his return to competitive cricket when he leads Saurashtra in their final Ranji Trophy Group B league match against Tamil Nadu beginning in Chennai on Tuesday.
The challenge lies ahead of Jadeja is to prove his match fitness that makes him eligible to play against Australia. He has been selected in the India squad for the first two Tests against Australia subject to fitness.
"I am feeling good to be back on the field. Very excited. Hopefully it will come good as a team and as an individual also," Jadeja told reporters.
"…See my first priority is to get on the field and be fit…100 per cent fit. Once I am 100 per cent fit, I will work more on my skills, whether it is batting or bowling. Now, my first priority is fitness…"
Rockstar @imjadeja in AnbuDen 💛#WhistlePodu #Jadeja📸 @lal__kal https://t.co/xP9jlvah7M

— WhistlePodu Army ® – CSK Fan Club (@CSKFansOfficial) 1674454826000
Jadeja had to undergo a knee surgery last year after playing for India last in August.
He said he had spent time at the National Cricket Academy (NCA) in Bengaluru and added that he wanted game time before the Test series against the visiting Australians.
"I was at the NCA for 20 days. I was doing batting and bowling. Match scenario is different. I wanted one game before the Australia series, that's why I am here."
When asked if there was any discomfort now, Jadeja said: "Not really…after five months I am playing competitive cricket, so you don't feel confident initially. "But as you progress, then definitely you get better and better. Injury is part of any sport. If you get injured, you have to start from scratch. The same thing in cricket.
"I was out of action for 5 months. I have to build my fitness. Once I get the confidence, I will definitely work on my skills and I will get better day by day."
He mentioned that it probably was his longest time out of the game.
"I think so…because of surgery."
Jadeja revealed it was a ligament tear.
"You feel bad. Nobody wants to get injured at your peak time. It is part of the game. You have to keep that in mind and be prepared for it. You can't do anything. There is no guarantee that one won't get injured in cricket.
"It was a ligament tear. It is coming good. I am slowly getting confident."
Jadeja emphasised that though he had been practising at the NCA, a match is a different ball game.
"As I said, a match is a different thing. Different ball game…I will try to give my 100 per cent. I will try to go slowly, slowly. Let's see how my leg is feeling and then we will see."
With star keeper-batter Rishabh Pant expected to be out of action for a considerable time after being involved in a road mishap last month, the focus would be on the player to don the big gloves in the Tests against the Aussies and Jadeja gave both Srikar Bharat and Ishan Kishan a thumbs up for the role.
"I am comfortable with everyone. First, I need to be comfortable…(laughs) They both are very good keepers. Srikar Bharat is coming into the squad now. He has to learn a lot of things. He will learn and get better and better as he plays more number of games,"
Asked how challenging it was mentally to return to full fitness, the ace all-rounder said, "Actually, fortunately I was busy with some other things…It helped me a lot.
"I was not thinking too much about cricket, two-three months after I got injured and had my surgery. I was busy with some election things(her wife's), that helped me a lot," Jadeja signed off.
(With PTI Inputs)