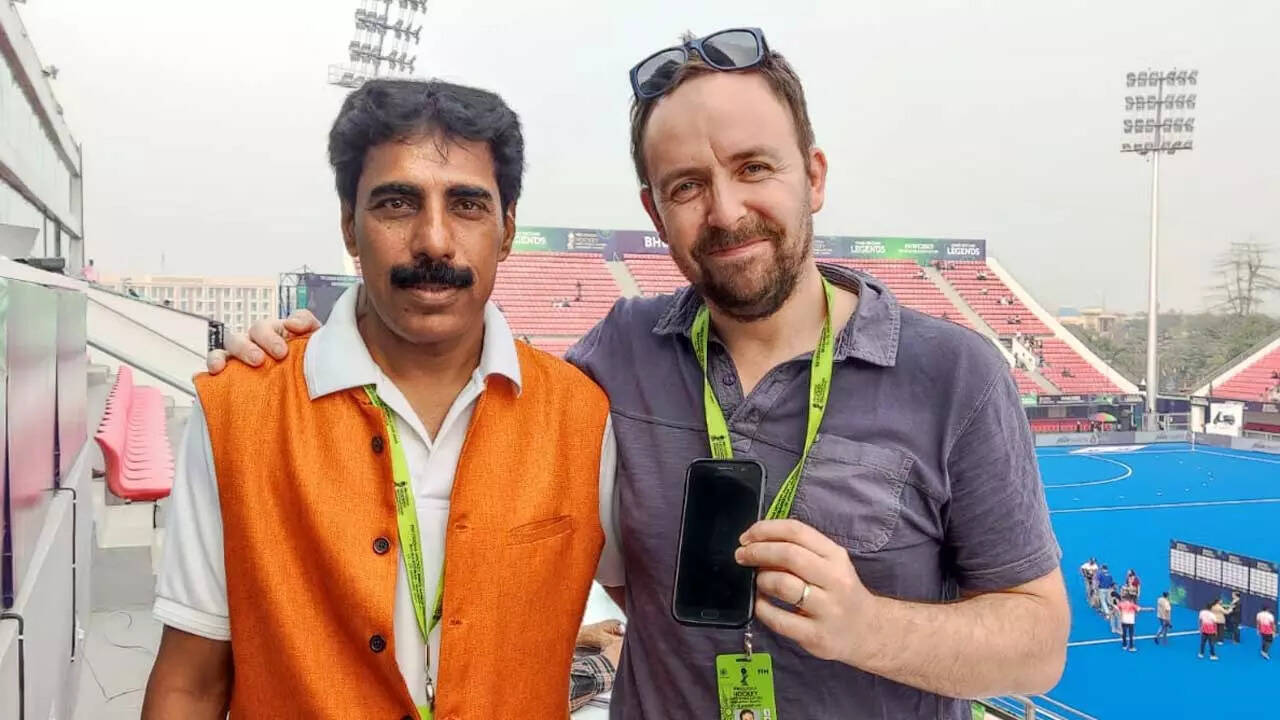 BHUBANESWAR: British journalist Rod Gilmour was on the same flight with me from Delhi when we embarked on our journey to report from the Men's Hockey World Cup in Odisha. The first stop was Jharsuguda, a town around 125 km from the steel city of Rourkela, the co-host of the tournament besides Bhubaneswar. But little did Gilmour know a nightmarish start awaited him.
While we dropped in to settle down in our hotel rooms in Rourkela, Gilmour dropped his cell phone. The screen cracked and appeared like spokes emerging from a hub. The worst part was the display vanished. The 43-year-old Gilmour, who has been in journalism for over two decades and runs 'The Hockey Paper' from Sussex, had his head in his hands. All his important data, including images and contact details, were now not accessible.
Gilmour had another device, but that was just a backup. The treasure trove was the phone that was now dead.
For a couple of days he managed, borrowed and produced. In between that, you could often see Gilmour looking at his dead, broken phone with some hope, when I introduced him to local man Susanta Behra, an entrepreneur who doubles up as a journalist because of his passion for hockey.
"Ah, I don't know how to say it. He's been a God-sent for me. A maestro, yeah. That's what he is, the maestro," said Rod, who got his phone back and alive, wearing a new screen, in less than 24 hours.
What added to Rod's delight was the fact that his data wasn't lost. His World Cup campaign had been "resuscitated" at a cost of Rs 5000.
"I was worried about the data getting lost," Gilmour said, with Susanta standing beside him. "At one point he (the repair guy) said, the data will be lost. I was like, 'do I have a choice?' I just wanted my phone to come back to life and resuscitate my trip.
"It was magic when Susanta brought back the repaired phone. It had all the data, nothing was lost. My trip was alive again," said Gilmour.
That was when Gilmour named Susanta 'the maestro' and the story spread like wildfire among the media covering the tournament.
"Maine to bas help ki, achha laga ke woh khush ho gaye (I just helped, felt good to see he was happy again)," said Susanta.
The media entourage moved to Bhubaneswar a week later. Rod was covering England and Wales, and both were in the same pool as India's — Pool D. So his itinerary mirrored the one of the Indian media.
But all hell broke loose for Gilmour after three days in Bhubaneswar.
He left his phone, the same one, on a chair and went to grab a bite during a break. To his shock upon his return, the screen was broken again with the display gone again. Possibly, somebody sat on it unawares.
Next morning, Gilmour was out again, this time in Bhubaneswar, to get his phone repaired and search for a permanent fix to his seemingly cursed campaign.