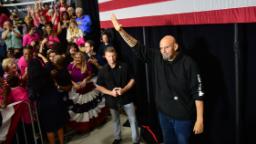 CNN
 — 

Pennsylvania Democratic Senate nominee John Fetterman committed Wednesday to meeting Republican opponent Mehmet Oz for a debate on October 25 – two weeks before Election Day.
Fetterman, the commonwealth's lieutenant governor, is recovering from a May stroke and has come under pressure from the Oz campaign for refusing to debate or take reporters' questions at news conferences. Last week, the Democrat announced his intent to debate Oz but did not specify a date or time.
But even with Fetterman now offering more specifics, a new subsequent back-and-forth between the campaigns over debate preparation and the length of the event has created new doubts.
In response to Fetterman's announcement, the Oz campaign said they would "accept the debate invitation" if the Democrat agreed to three conditions tied to what they described as Fetterman's own requests: that closed-captioning be used during the debate and he be given two opportunities to "practice" using the system onstage (and off-air) ahead of time.
Oz asked for stipulations that a moderator tell the audience at the beginning of the debate about the closed-caption system; that any practice questions for Fetterman "bear zero resemblance to the actual (debate) questions"; and that the length of the meeting be extended from 60 to 90 minutes because, they said, the format could cause delays.
The Fetterman campaign, in a subsequent statement, said Oz mischaracterized their plans for pre-debate "walk-throughs," a standard practice, and dismissed the suggestion it was a bid to rehearse his answers. They also rejected Oz's request for the debate to be extended by 30 minutes, citing a previously held agreement with the host.
Fetterman's team agreed to have the moderators explain that the Democrat was using a closed-caption system, adding, "John has been open and honest about his lingering issues with auditory processing."
Replying to the Oz camp's demands, Rebecca Katz, Fetterman's senior adviser, accused the Republican of cynically prolonging the campaigns' debate over debates.
"Let's be real: If we agreed to 10 debates, Oz would be demanding 20," Katz said. "He's going to keep trying to move the goalposts, because this is his only play."
After Fetterman initially announced he intended to debate Oz, questions lingered over when he might offer to make good on that promise. His speech remains hindered in the aftermath of a stroke that he said nearly killed him, but Fetterman and his campaign insist that his "auditory processing" issues are part of the recovery process and will improve with time.
Oz has seized on Fetterman's previous refusal to offer specifics on whether, and when, he would be willing to go one-on-one with the Republican nominee. Last week, Oz was joined by retiring GOP Sen. Pat Toomey at a news conference in which they ramped up the attacks, accusing Fetterman of either exaggerating his health issues in order to avoid a debate stage cross-examination or being physically unfit to serve.
"This is not about health, this is about honesty," Oz said. "It's either John Fetterman is physically capable of debating and is not debating because he doesn't want to own the statements that he's made, the radical left statements that he's made about so many issues, or he's lying about his health."
The Pennsylvania Senate seat is a top pickup opportunity for Democrats, who are defending their slim majority in the chamber this fall. It is one of the five states that flipped from former President Donald Trump to President Joe Biden in the 2020 election.
Fetterman's announcement comes as debate participation has become a point of contention between some campaigns nationwide. In Georgia, Democratic Sen. Raphael Warnock and his Republican challenger, Herschel Walker, have agreed to at least one debate after weeks of sparring between the campaigns over televised debates.
In North Carolina's open Senate race, the campaigns of Democrat Cheri Beasley and Republican Ted Budd agreed to an October 7 debate hosted by Spectrum News. And in Ohio, home to another open-seat Senate contest, tense negotiations between the campaigns of Democrat Tim Ryan and Republican J.D. Vance remain unresolved. Similar stalemates exist in Senate and gubernatorial races across the country.
In their announcement earlier Wednesday, Fetterman's team touted the October 25 debate, which will be hosted by Nexstar and broadcast across a wide range of affiliates statewide, noting that Oz had previously committed to taking part.
"We said from the start that we'd do a debate, which John reiterated very clearly again last week. Enough distractions, it's time to talk about the issues," Katz said.
Source link