CNN
 — 

The mother of an activist fatally shot by law enforcement in Atlanta earlier this week said she feels angry and powerless as protests over the shooting erupted Saturday.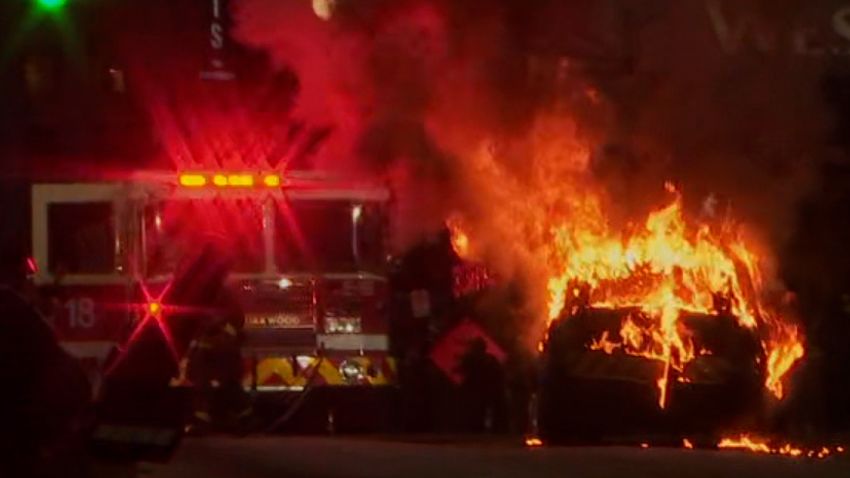 See video from the scene of 'Cop City' protest in Atlanta
The activist – 26-year-old Manuel Esteban Paez Terán – was shot near a planned $90 million, 85-acre law enforcement training facility where opponents had camped out for months in an attempt to halt its construction.
On Wednesday morning, law enforcement officials were performing a clearing operation to "identify people who were trespassing in the area," authorities said.
Officers spotted someone in a tent in the woods and gave verbal commands, but the person allegedly did not comply and shot a Georgia State Patrol Trooper, the Georgia Bureau of Investigation said in a news release.
Officers returned fire and fatally wounded the person, who was identified as Terán. A handgun recovered from the individual's possession matched the projectile from the trooper's wound, the GBI said.
Terán's mother, Belkis Terán, spoke to CNN by phone from Panamá Saturday night, expressing disbelief in law enforcement's recounting of the incident.
"They said he had a gun. If he had one, it was for protecting himself against the animals in the forest. That's what I understand," she said.
"I never knew he had a gun," the mother continued, adding that she didn't think Terán was the type of person to fire at law enforcement.
Activists associated with protesting the facility also disputed law enforcement's account, calling Terán a "forest defender" working to fight environmental racism. They said Terán identified as nonbinary and was a "sweet, warm, very smart and caring" person.
"He was not a violent person. He was a pacifist. He would tell me that all the time … He wouldn't even kill an animal," Terán's mother said.
Terán didn't express any concerns about personal safety over the roughly six months spent with other activists near the proposed police training facility, the mother said.
"He didn't think it would escalate. I would tell him to be careful, but he would tell me that he was safe," she said.
The mother says she now wants to come to the US to assist the activists who knew Terán.
"I want to stand up. I want to raise his voice. I'd like to help the conservationists to find a way to stop Cop City. I don't know if I can do that," she said.
The Atlanta Police Foundation has said the planned training center – dubbed "Cop City" by its opponents – is needed to help boost morale and recruitment efforts.
But the facility, which will include a shooting range, mock city and burn building, has been met with intense resistance, including Saturday's protest.
Terán's mother said she was saddened to hear about the protest in downtown Atlanta, where six people were arrested after businesses sustained damage to their windows and a police cruiser was left in flames.
"I don't think violence is going to do anything," she said, telling protesters in Atlanta, "Do not throw stones. We need to walk together with candles."
"I'm sorry for the people who are angry, but I don't want to be angry all my life," the grieving mother said.
Source link